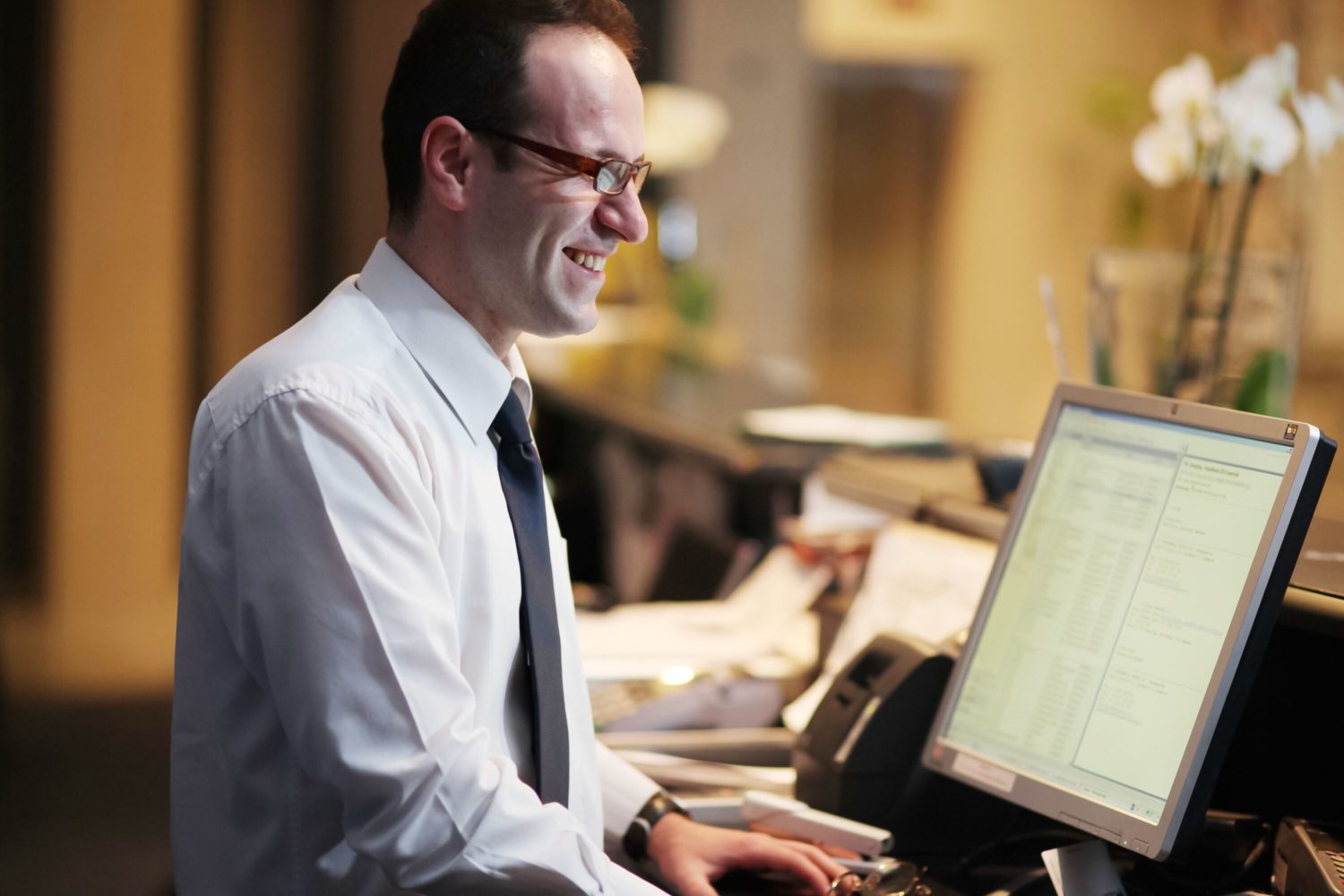 Accommodation Management System
WTO AMS focus on business essentials
We know the challenges you are facing. With over 15 years experience of developing solutions for the hospitality industry we are committed to secure your digital success. Our easy to use and innovative solution helps you increase your online sales, digital presence and internal efficiency.
Maximize your online
revenue.

Increase your efficiency
and cash flow.

Get real-time insight.

Customer retention.
WTO AMS is optimized for your business
Great solutions are made for its purpose. Therefore we have optimized our solution to fit your business and give you the right tools to stay ahead of your competitors, expand your market presence, transform data into decisions and retain your customers.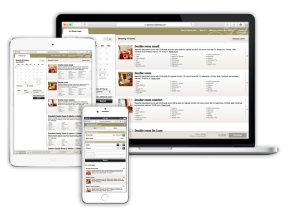 Booking engine optimized for any device. Your customers are using all devices, WTO AMS is optimised for all all devices you customer can use desktop computer, tables or mobile phones. Statistics shows that more and more customers are willing to book on a mobile device.
WTO Booking Engine is an adaptable integrated website booking engine. Developed over several years, we have taken great care to make it so simple, intuitive and quick so that it makes booking online really easy and natural. This is key features to generate more bookings for your hotel and our goal has been to make the booking process in as few steps as possible. The result is a system that drives high conversion rates, increases the online revenue and helps you keep track of all your sales channels from just one point.
With the WTO AMS, the hotelier can easily illustrate and promote his offers, packages and add-ons which help generate an increase of the revenue per booking.
With the built in reporting function you can easily keep track of your online sales and follow your conversion number directly thanks to the integration with Google Analytics.
Key features of WTO AMS

With a rich set of easy to use and innovative features we help our clients to increase revenue, reduce cost, and improve performance.

Add-Ons and Extras. Why just rooms ? With WTO AMS you can create a wide range of product and services that you want to offer your customer.

Packages Offers. Create your own custom packages that you want to offer your customer. It is as easy as setting package content, connect a rate plan and choose the add-ons you want to include.

Discounts and Offers. Provide your customers with promotions & discounts. Offer fixed or percentage discounts and/or use codes to access blocked periods for weddings, special events etc.

Gift Vouchers. Increase your revenue with an online Gift Card Shop on your own website. Our Gift Card Shop is fully featured to support both selling and managing the gift cards.

Facebook like discounts. Get more likes on facebook and at the same time have a rate that is lower on your website than with the OTA's.

Online Payment. Increase your cash flow and at the same time provide your online customers with security, trust and peace of mind right from the start. We are connected to several PSPs for secure online payments.

Agent and Corporate Rates. Create specific rates from your contract customers with private log-ins, offfering specialal attention to such customers and transaction.

Reports and Analytics. WTO AMS boost a powerful dashboard based function for statistic and analysis which can provide you with a variety of different sales reports including conversion rates and traffic numbers.

PMS connection. Our PMS Integration seamlessly synchronizes other hotel's Property Management System (PMS) with WTO AMS. This drastically reduces the amount of manual labor needed to manage bookings, maintain rate parity, and sell your last room inventory.

Language support. WTO AMS is currently available in 14 different languages and is expanding support to other labguages in the near future.

Userfriendly interface. With our simple and easy to administer web-based interface, you can update your information wherever you are.

Easy to implement on website. To implement WTO AMS on your web page is very easy. Place a widget on your webpage and that will open up the booking engine in lightbox.

Communicate with your guests. Prepare emails that automatically will be sent to your guests a certain amount of days before arrival or after departure.

Chain multi property access login. Hotel chains can work with chain access logins for easier management of they properties or locations.

Different accommodation types. WTO AMS supports a variety of different accommodation types such as hotels, hostels, holiday villages, B&B and spa resorts.

Secret URL for promotional purposes. Create hidden offers that only are visible if you have the correct URL. This can be used as an unique booking link for special events, like a wedding or a conference.

Google analytics. WTO AMS is integrated with Google Analytics, you can set up your own google analytics account. You can use either universal or classical analytics.

Cloud based. Our WTO AMS service is 100% cloud based. We host everything for you in a secure data center. Since is it cloud based all upgrades are free of charge.

High conversion rate. WTO AMS has a conversion rate above industry standard. Customer that has switched to WTO AMS has increased conversion with up to 198%
Meeting / Conference / Event rooms. Enable customers to view, book and pay for meetings, in real time, on your own website.

Supports Multi Devices. You customers are using desktop computers, tablets, mobile phones. To give them the best possible booking experience, the WTO AMS booking engine is optimized for each of these devices.

Powerfull rate administration. The admin application allows for easy execution of powerful revenue-maximizing strategies. With a balance between transparency and flexibility WTO AMS has one of the most advanced rate administration tools on the market.

TripConnect by TripAdvisor. As an official TripAdvisor we can enable our properties to take advantage of the innovative services of TripConnect. Cost-per-click campaigns spotlight your rates and availability in realtime from WTO AMS and drive booking-ready travelers straight to your website's booking page !
Travelers can now quickly research and compare pricing and availability directly within TripAdvisor. Using a Cost-Per-Click (CPC) model, accommodation owners can compete for direct bookings and drive booking-ready visitors directly to your website's booking page with no commission payable. 

If you want to drive more direct bookings, it's vital to appear in these results, right where travelers go to make their booking decisions !
How does WTO AMS work with TripConnect ? The integration of WTO AMS with TripConnect allows you to generate CPC campaigns on the fly. Simply place bids to appear in the price and availability search results which represents how much you're willing to pay for a qualified lead. When booking-ready travelers click on your CPC ad in these results, they are taken directly to your hotel's website to complete the transaction and will be charged for this click accordingly.

What are the benefits of using TripConnect ? Maximize Bookings. Attract travelers with your rates and availability from your website compared to the rates with the OTAs and then send them directly to your booking page with a single click. Increase Revenues. Once you get the customer direct to your WTO AMS platform you can use our dynamic up sell capabilities to increase per-guest revenues. Reduce Costs. When you generate more direct bookings, you spend less in commission fees. TripConnect brings the power to maximize direct bookings to your fingertips.

Google Hotel Price Ads. With WTO AMS you can be displayed in Google's ads network for accommodation providers (Google, Google map, Google hotel finder). WTO AMS has an integration with Google Hotel Finder. This means you can have all the bookings received through those channels automatically synchronized and updated through WTO AMS. By using this function you will also avoid paying the commission that the OTA´s take when providing you with bookings and instead only pay a low pay per click cost by sending the customer directly to your own website.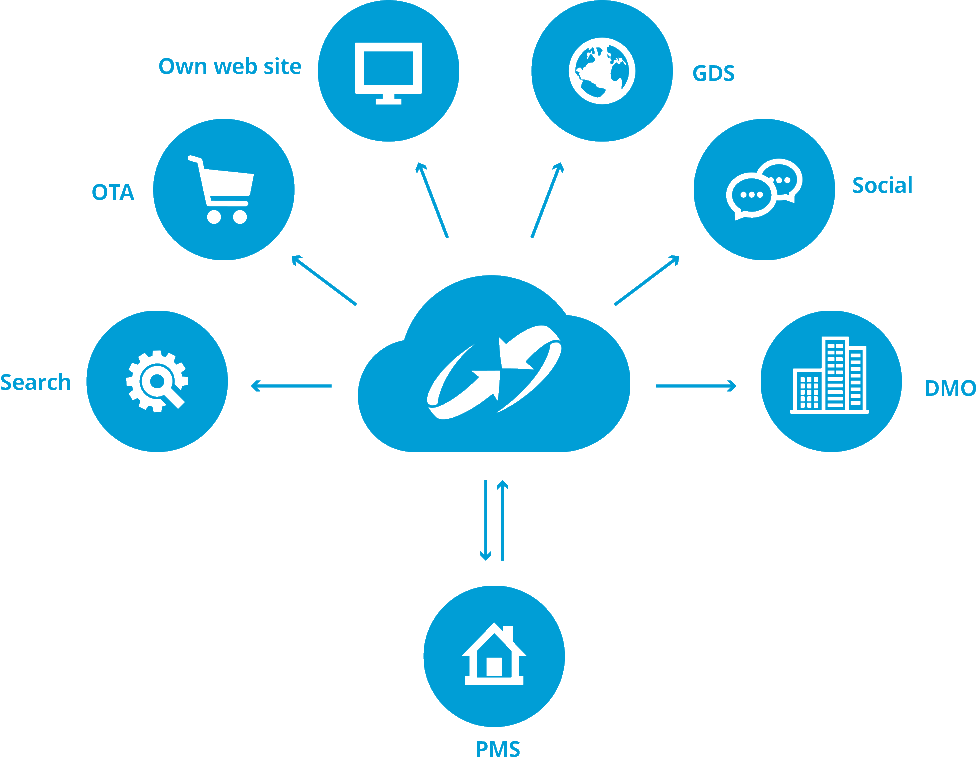 Channel Manager. Increase your bookings with real-time rate & availability management across multiple distribution channels from a single user interface. Built-in Channel Manager. WTO Booking Engine is connected to all the largest online booking channels. This means that you can sell your rooms through Expedia.com, Hotels.com, Booking.com and HRS. Reservations are automatically captured and imported through the channel manager and your availability is updated in all connected channels whenever a change is made in WTO AMS. This gives you full control over rates and availability on all of your sales channels, instantly !

Facebook booking engine. You can sell your inventory through Facebook, simply install the WTO AMS Facebook Booking App on your Facebook page. Visitors to your facebook page can buy your rooms and packages securely without ever having to leave the Facebook site.

A big volume of consumers rely on social networks when making travel decisions. 50% of Facebook visits come from mobile devices. 20% of all hotel searches are already mobile. WTO AMS mobile booking engine and social marketing help you target those high-value users. The free WTO AMS Facebook module gives your hotel a separate booking channel that is very simple to install and use, and require no maintenance. Provide Booking features, Special Offers and packages to your Facebook fans from right within your hotel's Facebook Page ! And because the apps take information directly from your WTO AMS, you never have to worry about keeping your Facebook apps up to date – changes made in your WTO AMS Admin appear in Facebook immediately, just as they do on your hotel's website.